The success story of the CLAMPBOOSTER

From the idea to the successful product
Every piece comes with a story
This is the story about the power full automation can provide to even older CNC machinery.
1. Simplyfing complexity
Simply ordering a robot and commissioning an integrator is not enough. Because: Who or what tightens the vise in a fully automated manufacturing process? And, who or what releases it again?
2. Simplicity through planning
We simplyfied automation through planning, we created an answer for robots to support them completing the workspiece´s clamping: The CLAMPBOOSTER expands the robot's capabilities by adding drive for the CNC vises. This allows the robot to perform high-precision clamping operations with manual vises quickly and securely.
3. Too good to be true
The existing production process remains untouched and can be continued as usual - thanks to fully automated CNC production without a manual component working 24/7.
This is no marketing story –
This is no marketing story –
It's the true story of our CLAMPBOOSTER,
our development,
our CNC production,
our manufacturing.
This is the game changer
for the gap in CNC automation,
for the automation of CNC machines.
The solution is right in front of you. Seeing is believing.
Who is behind CLAMPBOOSTER?
Plan. Prototype. Product.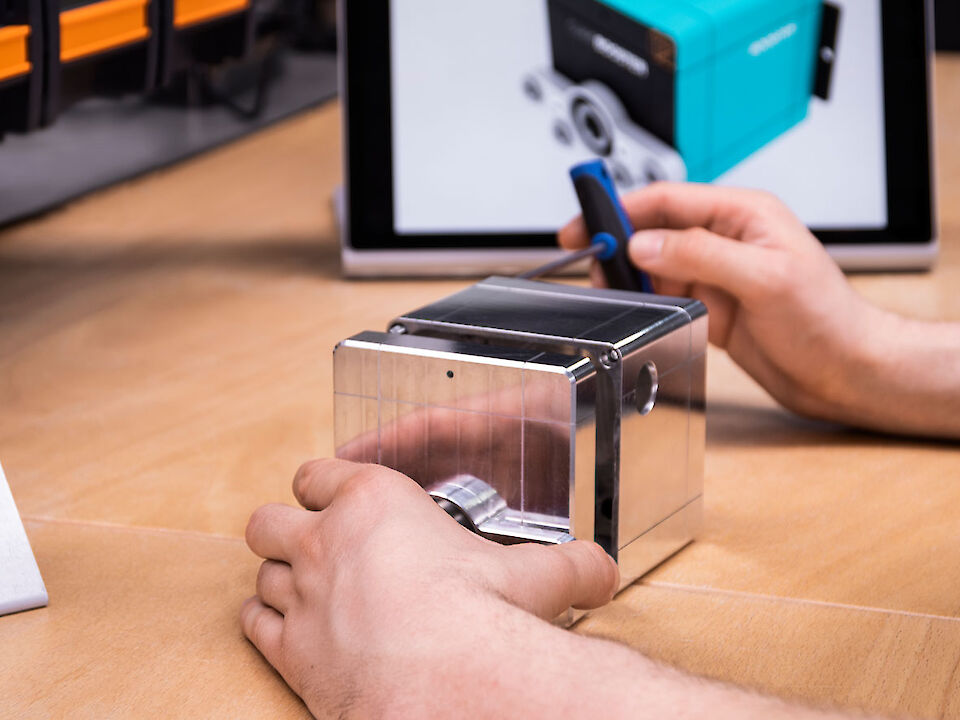 Future-proof vision
The traditional metal processing industry is becoming increasingly automated. The degree of automation varies from fairly simple to complex machine solutions for mechanical products. We offer a flexible, future-proof vision and new solutions for automation in CNC machining technology.
Step-by-step conversion of your machines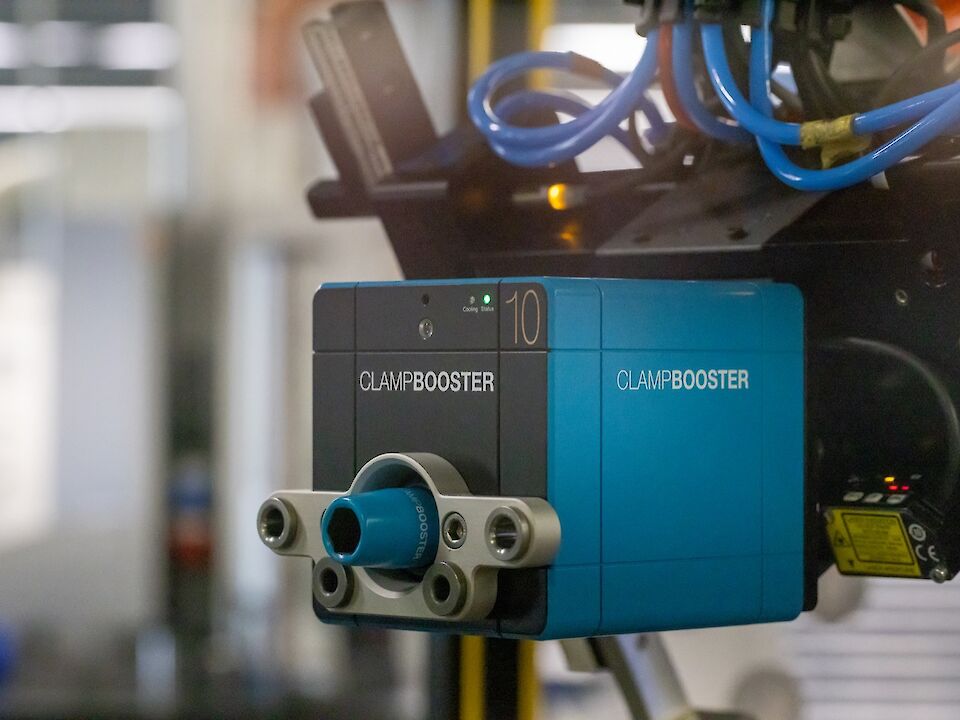 Step-by-step conversion of your machines
We are specialists in CNC manufacturing. We know exactly how mechanics and electronics interact and where the use of automation solutions makes sense. Our approach is individual and innovative. Our mission: Achieve Industry 4.0 with a step-by-step conversion of your machines to fully automatic processes. As technology should adapt to you and not the other way around!
Unique Innovation of CLAMPBOOSTER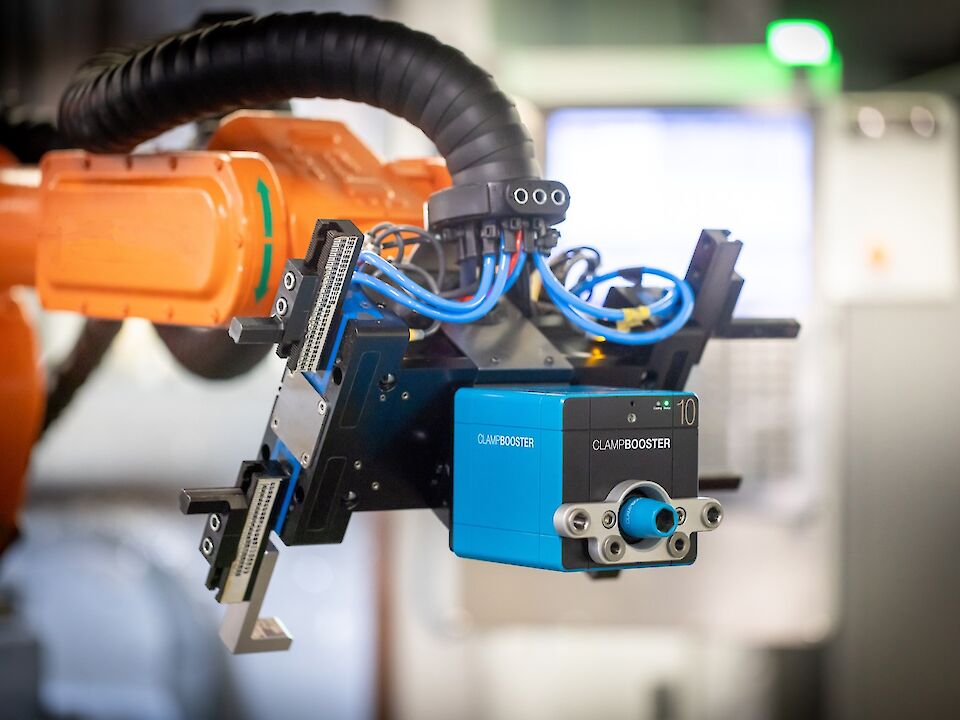 Unique Innovation of CLAMPBOOSTER
With the CLAMPBOOSTER, we have created a complex automation component that optimizes your CNC processes and makes your production more efficient. The development of the CLAMPBOOSTER includes the mechanical construction, the creation of circuit diagrams, the design of circuit boards and the implementation of sophisticated software. The CLAMPBOOSTER is the best example of the visionary innovative spirit that defines us.
This is what makes idee-werk unique
We are visionaries, we are the future.

We develop smart solutions and intelligent technology for Industry 4.0.
Idee-werk was founded in 2005 and has been owner-managed ever since. We are dedicated to technologies and innovative solutions for CNC production. Since 2021, idee-werk has been managed by a new generation, who are leading us competently and reliably into a new future. We stand for innovation, customer service, and sustainability. We offer intensive support during your project and beyond, and we guarantee the highest quality of our development and production, reliability, punctual delivery of our products, as well as individualized solutions.
The success story of CLAMPBOOSTER
Plan
The history of the invention of the CLAMPBOOSTER is unique: We at idee-werk were faced with the great challenge of automating our own CNC production. It quickly became clear to us that a crucial step in the production process was missing - the automation of clamping the workpiece in a manual vise. We decided to go a whole new way. This is how company founder Norbert Eugler developed the CLAMPBOOSTER.
Prototype
The invention of the CLAMPBOOSTER allowed us to close the final gap in automation. Our employees made the first prototypes in their own production. And after extensive testing in prototype construction, we were able to perfect it for serial production.
Product
With the CLAMPBOOSTER, our machinery could be fully automated within the existing systems without major investments! And the CLAMPBOOSTER went into serial production. Since then, it has been manufactured by idee-werk in Bavaria according to the highest quality standards and is now valued by numerous international customers, vise manufacturers, and integrators.
CLAMPBOOSTER is our pride and joy!
With the CLAMPBOOSTER we have found an innovative way to automate the clamping of a manual vise and thus close a large gap in fully automated CNC production. Our protected by patent solution does not require any complex and expensive conversion of your CNC machine or training of your employees, and instead optimizes your existing process.